Introduction
Controls and logs data from Kitsrus kit k164 Telephone Call Logger.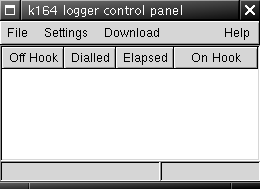 ---
Features
primary

display calls as they occur, and write to a log file,
download calls from logger,
set the date and time on the logger,
change the password on the logger,

secondary

sort calls in order by any column, ascendind and descending,
truncate telephone numbers on display for privacy,
test cabling to the logger,
detect and log power failures or resets on the logger,
enable or disable writing to log file,
enable or disable writing to standard output.
---
Changes
This is the first release. There are no changes.
---
Resources
---
Wishlist
You may be able to help.
echo asterisks during password entry,
package this for distribution,
test out my code and find any defects,
make feature suggestions.
Page Change Log
| Date | Change |
| --- | --- |
| 2001-12-13 | Initial release. |
---
| quozl@us.netrek.org | up |